Scroll down to see what people are saying about
Tanna...
I recently purchased a lake lot with the assistance of Tanna Pendleton. The experience was awesome! She was knowledgable of the area and market conditions and was invaluable in my search. I always felt that she had my best interests at heart which allowed me to trust her completely. I would recommend her to anyone in the market. You won't be disappointed!
John Wimsatt
Patti Ramage -

Tanna Pendleton is a real professional! She far exceeded my expectations of a real estate agent.

My husband and I had been looking for a home for quite some time. Since we were looking for a new home, we had previously gone the route of looking at builder homes through viewing models and dealing with on-site agents.

However, we were introduced to Tanna and she met with us and determined our needs and exactly what we were looking for in a home. She was very pleasant and energetic, working tirelessly, showing us a wide variety of homes. She listened closely to our comments to know exactly what amenities were the most important to us. She was always very patient and upbeat, and made herself available to answer our numerous questions, and to show us homes (sometimes three or more times).

Ultimately, Tanna found us our dream home. She coaxed us to a home in a location that we had not considered before. She knew exactly what we wanted. We are so happy, not only with our new home, but with our new neighborhood and surroundings. WE LOVE TANNA!

Tanna made the whole home-buying process completely seamless and as stress-free as possible.

I have, and will continue to recommend Tanna to my friends and associates. There is absolutely no doubt in our minds that SHE IS THE BEST!!!
"Newly transplanted to the north Dallas area and expecting our first child, my husband and I were eager to put down roots and find the perfect new home to settle into. Needless to say, we quickly became discouraged upon finding that most of the homes we liked were either out of our price range, or already had contracts on them. We were even more disheartened when our first Realtor informed us it would be impossible to find the type of home we wanted for the amount of money we wanted to spend. Thankfully we knew this was not the case, and the solution was simply to find a realtor who would help us find the type of house we wanted in our price range...even if it took a bit of looking. Our mortgage company wound up recommending Tanna to us, and we are so grateful we gave her a call. It was the best thing that could have happened for us. Tanna is by far the best realtor. She was always prompt to show us the houses we were interested in, and always had an incredibly pleasant attitude. We asked her to show us quite a few houses, and some turned out to be downright scary, but she never made us feel as though we were putting her out. Finally, we did find just the house we were looking for and in our price range. When the paperwork part of the process started, Tanna was always right on top of things. She took such good care of us and made sure everything was handled. Choosing Tanna allowed us to have peace of mind in knowing everything would be handled with promptness and accuracy. I can not say how pleased we are with her as our realtor. If you are looking to make your home buying experience a positive one, and you want the very best, then I would not hesitate in giving her a call. We are so glad we did."
The Eatons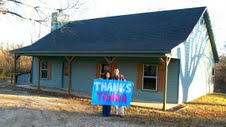 I chose to work with Tanna because of her exstensive knowledge. I felt she was looking out for the needs of my family at every opportunity.

Having worked with many realtors in the past. We set our expectations very high. I am very busy so I only want to see and hear about things that are truly relevant to what our needs are. Tanna always kept me informed with pertinent information. She seemed to go the extra mile in making sure any questions I may have had were answered before I asked.

I am mostly impressed with Tanna's integrity and honesty. Tanna obviously has a real passion for what she does.

I would tell a friend (and have) that if they need a realtor they must call Tanna Pendleton. She will make sure that you get what you are looking for all the time.
Kenny Davis
Tanna Pendleton made my home buying process as easy as possible. She asked the right questions to help my wife and I narrow down the area's we were interested in buying our new home. She was always available to us and exceeded any and all expectations I would ever have in a realtor.

She never presured us into making a decision and was very informative about the communities in which we were looking to buy in. She made my wife and I feel like she really cared about us and our concerns and she treated us like we were friends or family and not like a client.

I would strongly recommend Tanna to a friend or family member who was looking to buy or sell a house. Her professionalism and personality made the process go as smoothly as possible.

Thanks Tanna!!!
Gregg Freiermuth
Tanna introduced me to a customer of her's to do some plumbing service work. She is a very good communicator and very personable. She not only provided me with all the necessary contact information but took the time to meet me on the job and go over the scope of work with me. The way she conducts herself makes both parties feel completely comfortable with the task at hand. I would refer her anytime and would encourage people to work with her because not only is she a hard worker but she does all the little things that make the difference. That is hard to find these days.
Stan Ragsdale Gem Plumbing
Tanna is one of the better realtors I have dealt with. I have had several experiences with realtors whether buying or selling a home and Tanna was one of the more professional and thorough. The irony was that after looking in the area we were wanting to buy, we decided to stay in our current home. Tanna remained very encouraging while wishing us luck in the future. We will surely recommend Tanna in the future to anyone who is looking to buy or sell a home.
It was a pleasure to work with her!
Scott Wilson
Tanna is a gracious and knowledgeable professional that took time to understand our desires and necessities. She was always prompt and quite accommodating to our schedules from the initial house we visited all the way through closing. We will contact Tanna again should we ever have the need for a realtor.
Clifton Walker
I would recommend Tanna to anyone out there. One of the best agents I've ever met. She has my endorsement for sure...Thanks Tanna!!!!
Cody Atkinson Atkinson Inspection Services
Tanna Pendleton has been very knowledgeable about her product and very personable. She has always been extremely prompt in responding to my needs and handled all my customers with great satisfaction. Tanna is the hardest working realtor i have seen. I will always recommend her first to anyone.People like to buy from someone they like, Tanna has a way about her that makes people very at ease and comfortable to do business with.
William Cureton Silver Plumbline Custom Homes
My husband and I contacted Tanna when we saw her sign on a previously listed home. We met with her and found her to be very personable, knowledgeable, and professional. We used her to list our owned home and property, find tenants, and to purchase a new home; all with fantastic results. Her rates are competitive and is hard working. She will definitely remain a friend of the family.
Jodi and Mike Luepnitz
Tanna is very pleasant and easy to work with... She always goes above and beyond what is necessary to make sure your interest taken care of. Definitely would recommend her to everyone I know!
Dr. Trinh Bender
Tanna is an amazing person and Realtor. She is very hard working and made buying our new home in McKinney, TX a wonderful experience. She exceeded our expectations by constantly keeping us informed throughout the process and handling everything promptly and with a smile. She has an enriching personality and we would recommend her services to anyone.
Nacole and Justin
Dear Tanna,
Thank you for assisting me in the sale of my lot in Lakewood Village. I am so glad you were able to find a buyer and negotiate a purchase price that I was satisfied with. You were very professional and a pleasure to work with. Tanna, you made the process seem flawless and easy. You worked hard to get answers and I was very impressed with the constant communication throughout the closing process. I will recommend your services to friends, family, clients and anyone else I know in the Dallas area. Thank you once again for all you did.
Sincerely,
Matt Schoening
Ref: Tanna Pendleton - Realtor
If your looking for a realtor who will work hard for you, and is dedicated to her clients Tanna Pendleton is your best choice! We had to move out of state and listed our home with 2 different realtors prior to turning to Tanna. Both of the prior realtors claimed that they were working hard for us, but when we would check on
the house, small things were not being tended to, and none of the extras like open houses, or checking to make sure the house was still looking good since we had already moved.
After having the house on the market for a year and 1/2, we decided to turn to Tanna for help. With the help of her assistant, they spent quite a bit of time just re-preparing the house prior to listing. They went as far as to move furniture, take down an abandoned trampoline, and rework flower beds. She would check on our house regularly and would spruce it up before it would need to be shown. She
really went above and beyond our expectations. After listing with Tanna, the number of showings increased considerably, and the house sold. We believe that if we had not turned to Tanna Pendleton for her services, our house would still be on the market today. We highly recommend Tanna for all of your future realtor needs.
Sincerely,
Chris & LaDawn Christopher
Tanna,
We just wanted to thank you for your professionalism during our home search. You were so very warm and friendly and we just wanted to say thanks for taking us all around. We are unable to move as quickly as we wanted to because we are having a hard time selling our property back in Austin. Please continue to send us the updates on what is for sale here and we will keep you updated on the progress we are making back home. We will definately stay in contact with you and again we want to thank you for all your help. We look forward to continuing to work with you on our home search in the up and coming months. Also, we told our daughter all about you and she will be in contact with you soon to talk with you about listing her home.
Thank you again,
Judy Kosinski
Tanna,

I appreciate your professionalism during this transaction and wanted you to know that Remax could use a good agent like you in Frisco. My Dad is the manager of a Remax office and I have been with the same broker for 14 years. I believe with the way you have handled yourself that you would be an asset to our organization and that you could benefit as well with the training we have and the name recognition that comes with being a "Remaxer". I have been an MCE teacher with our Remax corporation. Anyway, I just wanted you to know that we would love to see you at an interview and for you to see the possibilities with Remax. Ultimately all it would be a is time commitment for you to see what Remax is about. If you like what you have now all you were out was the time. Even coming to one of our lunches that we have each Wednesday at noon would be encouraged. Have a good week Tanna!


Douglas H. Smith
Re/Max Premier Properties
Broker Associate
Practicing realtor
Texas Real Estate Commission MCE instructor
GRI, CRS, ABR